Coaching Staff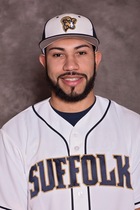 Head Coach: Jay Mendez
Jay has recently accepted a Job at Curry college where he will serve as Pitching Coach
Suffolk alum and former Rams baseball standout Jhonneris Mendez rejoined the University's athletic department in the fall of 2015 and begins his third season on the sideline of Anthony Del Prete's staff.
He earned a Bachelor's of Arts degree in Sociology, Crime and Justice from Suffolk in May 2014 and graduated in December 2016 with a Masters of Education. During his graduate coursework, Mendez worked as a graduate assistant in the Athletics Department as the Director of Intramural.
Mendez aided in Suffolk to unparallelled success in his second season as assistant coach in 2017; a GNAC threepeat and a historical NCAA run. In the process the Rams, who put together the best league ledger (12-2) under Del Prete and finished the season 28-17 overall, finished as the NCAA Division III Statisticall Champion in triples (32) and triples per game (0.71). Brady Chant, the program's ninth overall All-American after garnering a D3Baseball.com Honorable Mention nod, led the triples charge. The centerfield finished atop the nation in triples (12) and triples per game (0.27) as a junior, the first Ram to lead the country over the course of the season in both categories.
Chant added two first-team all-region accolades to his resume along with senior catcher Matt Brenner, while senior hurler Chuck Gibson, who picked up both GNAC Player of the Year and GNAC Touranment MVP, was a first-team honoree by the NEIBA in conjunction with ABCA/Rawlings and earned a spot on D3Baseball.com's all-region second squad. Overally, Mendez helped 10 individuals combine for 12 all-conference honors. In his first year as an assistant coach with the Rams, Mendez helped the blue-and-gold to unparalled success - the program's first-ever back-to-back GNAC title and sixth trip to the NCAA Tournament thanks a 5-4, 10-inning win over St. Joseph's (Maine) in the championship. The Rams garnered the second-most wins in program history at 33-13 (11-3 GNAC), while also leading the conference in every statistical cateogry offensively, while posting a total of 345 runs scored, the highest among New England squads. On the bump, Suffolk's staff posted a league-best ERA of 3.38, while the team set new program marks in fielding percentage (.963) and stolen bases (95).
Billy Uberti Hitting Coach East Georgia State
Billy recently accepted a Assistant Coaches position at East Geourgia State he will serve as the hitting Coach and recruitung coordinator
In his 2nd season on Suffolk's bench, Uberti was an added bonus to the Rams' coach staff, helping the Rams to their fourth consecutive GNAC Championship and fourth trip to the NCAA DIII Regionals in as many seasons.
On the road to another banner year, Uberti aided in a league regular season title with a 13-1 record against conference counterparts, as well as the program's 1000th victory, an 11-2 nightcap win at Norwich April 21.
Uberti helped 11 student-athletes take home 17 postseason accolades by the GNAC including Player of the Year Brady Chant, who garnered all-region first-team accolades by D3Baseball.com and the NEIBA in conjunction with the ABCA/Rawlings.
Off the diamond, Suffolk's success in the classroom was acknowledge by the ABCA with the Team Academic Excellence Award, while Chant picked up Google Cloud Academic All-District from CoSIDA for his standout academic and athletic performances.
For the past three seasons Uberti has been an assistant coach at his alma-mater and GNAC opponent Lasell. At Lasell, Uberti worked directly with the infielders and hitters along with aiding the recruiting efforts. In the 2017 season Uberti aided the Lasell offense to program records in batting average (.318), slugging percentage (.455), and home runs (19).
Uberti is a lifetime resident of Newton, Massachusetts, where in 2009 he received the Bill Hamill award (most outstanding high school baseball player in the city). He attended Lasell from 2010-14, where he was a four-year starter. During his junior and senior years, Uberti received GNAC all-conference recognition and captained the team. Uberti graduated from Lasell in May 2014 with a Bachelor of Science Degree in Sport Management.
Following graduation, Uberti was awarded the opportunity of playing professional baseball in Australia after excelling in his summer baseball league, winning the batting title and a gold glove. He played for the Breakthrough Bandits out of Cairns, in the North Queensland baseball league.
While at Suffolk, Uberti recently completed his Master's Degree in Administration of Higher Education.
Mac Curran Pitching Coach
Mac will return to take over the pitching staff after a season as the bullpen coach, Mac also heads the Summer drop in clinics for the team. Mac started his collegiate baseball career at Niagara University from the he attended Umass Dartmouth and was a two way player for 3 seasons. He is currenty Coaching at Bishop Stang high school under former Major League Pitcher Brian Rose.