Coaching Staff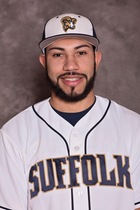 Head Coach: Jay Mendez
Suffolk alum and former Rams baseball standout Jhonneris Mendez rejoined the University's athletic department in the fall of 2015 and begins his third season on the sideline of Anthony Del Prete's staff.
He earned a Bachelor's of Arts degree in Sociology, Crime and Justice from Suffolk in May 2014 and graduated in December 2016 with a Masters of Education. During his graduate coursework, Mendez worked as a graduate assistant in the Athletics Department as the Director of Intramural.
Mendez aided in Suffolk to unparallelled success in his second season as assistant coach in 2017; a GNAC threepeat and a historical NCAA run. In the process the Rams, who put together the best league ledger (12-2) under Del Prete and finished the season 28-17 overall, finished as the NCAA Division III Statisticall Champion in triples (32) and triples per game (0.71). Brady Chant, the program's ninth overall All-American after garnering a D3Baseball.com Honorable Mention nod, led the triples charge. The centerfield finished atop the nation in triples (12) and triples per game (0.27) as a junior, the first Ram to lead the country over the course of the season in both categories.
Chant added two first-team all-region accolades to his resume along with senior catcher Matt Brenner, while senior hurler Chuck Gibson, who picked up both GNAC Player of the Year and GNAC Touranment MVP, was a first-team honoree by the NEIBA in conjunction with ABCA/Rawlings and earned a spot on D3Baseball.com's all-region second squad. Overally, Mendez helped 10 individuals combine for 12 all-conference honors. In his first year as an assistant coach with the Rams, Mendez helped the blue-and-gold to unparalled success - the program's first-ever back-to-back GNAC title and sixth trip to the NCAA Tournament thanks a 5-4, 10-inning win over St. Joseph's (Maine) in the championship. The Rams garnered the second-most wins in program history at 33-13 (11-3 GNAC), while also leading the conference in every statistical cateogry offensively, while posting a total of 345 runs scored, the highest among New England squads. On the bump, Suffolk's staff posted a league-best ERA of 3.38, while the team set new program marks in fielding percentage (.963) and stolen bases (95).
Pitching Coach Andrew McKeon
Andrew Mckeon enters his first season as an assistant with the Ana Maria College team. He will primarily serve as the pitching coach and will assist in recruiting, game and practice management.
Mckeon comes to FSU after serving the past three seasons as an assistant coach at Moses Brown High School in Providence RI. During his tenure as the pitching coach the Quakers saw the team's ERA dip over a run and a half, including a state leading 1.77 team ERA in 2015. Moses Brown also had some of their most successful seasons in program history by making the Division 1 state tournament all three years including a trip to the RI Final Four in 2015 and Elite Eight in 2016.
While at MB, Mckeon produced nine high school all-star pitchers and 7 All-Division 1 pitchers. He also coached 1 first team all-state selection and the 2015 Division 1-B Cy Young award winner. He has helped several MB alum go on to play college baseball.
Mckeon has also coached Junior and Senior American legion baseball for teams based out of Johnston and Cranston RI from 2012-2014 and again in 2016. He has served as both a head coach and assistant. Additionally, he served as the manager for the 2015 Rhode Island Connie Mack state champions. He also has served as the head coach for several AAU teams ranging from 12U to 18U operating out of the Rhode Island Reds baseball club from 2010-2012.
Mckeon attended Rhode Island College, earning a bachelor's degree in community health with a concentration in wellness and movement studies and a minor in coaching in 2015. As a player, he was a pitcher for the Anchormen baseball team from 2009-2013. He found success both starting and out of the bullpen, including a team-leading 4.38 ERA in his freshman campaign. Following his playing career, Mckeon stayed on as a student assistant coach while continuing to pursue his degree. He was involved with all aspects of the program from day to day operations to game and practice management.
Mckeon also served as the Interim pitching coach at Roger Williams under Coach Briand in the fall of 2015. Currently, Mckeon serves as the head coach for the Central Massachusetts team in the showcase league.
Assistant Coach Alan Robbins
West Virginia native, Alan Robbins was a four year starter at Division I Winthrop University. Alan earned Iron Eagle in the weight room as well as voted hardest working position player by the coaching staff. Alan was voted team captain of the Winthrop Eagles where he led the team to compete in regional games in 2005 and 2006. During his tenure the Eagles won the Big South Championship and he was awarded All Tournament Team in regional play, he was voted first team all conference as a catcher.
Alan spent his summers playing collegiate summer baseball in the Great Lakes League, the Coastal Plain League and the Alaska Baseball League.
In 2006, Alan was a 32nd round draft pick for the Philadelphia Phillies, playing with the organization he made stops in the Lakewood, New Jersey; Williamsport, Pennsylvania; Clearwater, Florida; Redding, Pennsylvania. Alan finished off his professional career in the Frontier League with the Washington Wildthings in 2010.
During his time in the offseason Alan took every opportunity to return home and work with local youth where he found a new love for developing talent both on and off the field. What started as a past-time eventually grew to become a well known and loved establishment, First University Athletics. Alan has owned and operated First U since 2010 and has seen thousands of kids grow to become better ballplayers, teammates, and people.
Alan graduated from Winthrop University with a Degree in Business and resides in West Virginia; he is married to Melissa Robbins, owner of You First Fitness and they welcomed their son, Cannon Cobb in September 2015.